Fun, Child-Friendly Preschool
Offering Stimulating Early Education Programs
At Children's Preschool in Santa Cruz, CA, children will learn math, science, and reading while they play. Our preschool provides children with everything they need to enrich their early education, including arts and literature training. We also have a large and secure yard where your kids will be able to enjoy a variety of motor activities, such as tricycle riding, running, playing a ball, and climbing. In addition, your children will learn gardening and grow vegetables like carrots and tomatoes. They will also have cooking projects, where they will learn how to make cakes and pies with their harvest. The cooking classes will help kids understand math concepts better.
What Parents Say About Our Preschool
"After being home with my twin girls for two and a half years, the time had come when I needed to go back to work. Being a new parent, I was quite nervous about letting someone else care for my children. I looked into dozens of preschools, daycares, and in-home care facilities. As I searched, I had the following criteria in mind:
Safety: I wanted my girls to be able to run and play in a clean, safe, and secure environment.
Nutrition: I like my girls to eat healthy, whole, organic foods as much as possible.
Price: Well, let's face it; I was going back to work because we could no longer afford to live on one paycheck. The price had to be right.
Teaching Staff: Bottom line, I needed to go on instinct and feel comfortable leaving my girls with them."
"Children's Preschool meets and exceeds my criteria. What I am most impressed by is the teaching staff; they are outstanding in every way. My kids have been attending for almost a year now, and their love of the teachers is a true testimony for how caring, kind, nurturing, and respectful they are."
"I couldn't be happier with Children's Preschool; I would highly recommend it to anyone!"
"Both of my boys attended Children's Preschool in Santa Cruz and they loved it. The staff is very attentive to the children, offering many fun and enriching activities to stimulate their growing minds. The school offers a great space for the children to play in, and it is always very neat and clean. Krishanie and her team are very patient and nurturing, taking much pride in the work they do for the children. I always felt my children were in good hands when I left them with Krishanie and her staff."
"My son Taj has been attending Children's Preschool for more than two years, and we could not be happier with the exceptional care he receives.
Krishanie and her staff are very warm and loving towards all of the Center's children. They embrace diversity and each child's individual learning and care needs. The staff practices the use of your words and a positive discipline approach, and they model excellent behavior towards the children. My son's social skills have been directly influenced in a positive way by teachers at Children's Preschool.
My son leaves Children's Preschool each day excited by what he learned and the experiences he had throughout the day. He is also well-fed and -rested. It is never easy to leave your child in the care of another while away at work, but with Krishanie and her staff, I know my son will be expertly cared for and have enriching experiences, we truly feel lucky to have found Children's Preschool."
Take Advantage of

Our Educational Programs
Thank you for visiting the online home of Children's Preschool in Santa Cruz, CA. Enroll your kids in our educational programs! We look forward to having your child with us. We will ensure your toddler a fun-filled learning experience in a safe and secure learning center.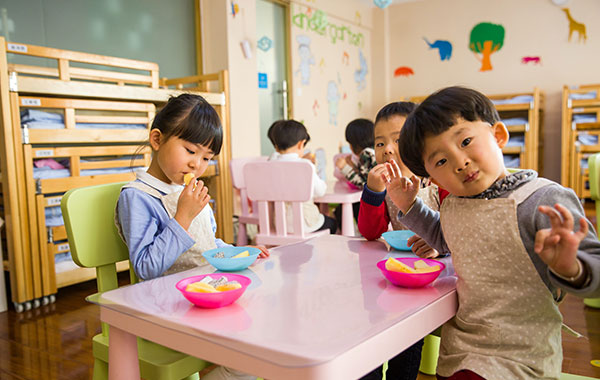 Learn More About Our Preschool
Thank you for taking the time to visit our website. Should you have questions about our preschool curriculum and the different activities we prepare for our students, get in touch with us today. Our staff is here to provide you with further insights into our school. We hope to hear from you!